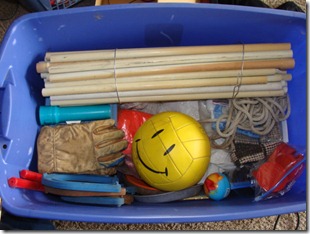 I have a family reunion box.  I started the box because I got tired of  getting to the family reunion and finding out that I had forgotten to bring things like tape or scissors. 
It seems like my friends and family with trailers have everything stashed behind their trailer doors but I don't have a trailer- I have a family reunion "box".
Here's what I've stashed inside my family reunion box: Gloves, rain ponchos,  first aid, tarp, all sizes of rope and string, plastic table cloths, collapsible shovel, plastic ware, serving spoons, can opener and rags.
I always keep things like balls of every size (including wiffle and volleyballs), horseshoes, marshmallow blow sticks, Frisbees, blindfolds, dice, huge checkers set, crayons and coloring books just in case we need some extra fun at our reunion.
Inside the family reunion box I have a smaller box with lots of compartments where I keep things like tape, scissors, pens and pencils, markers, over the counter pain medicine, reflector tape, bug spray, sun screen, wet wipes, crayons, thumb tacks, toothpaste, new toothbrush, string, nails, extra lantern supplies, matches and batteries.
I usually have what we need at our family reunion in my box- except for this year- someone needed a stapler.  I didn't have a stapler in my box this year but you can bet I will next year!