1.  I will never make a fish print t shirt.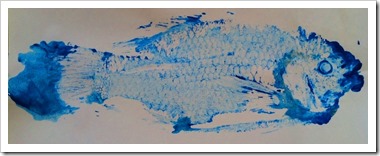 Fish  print t shirts- it seemed like a great idea- and it fit our theme perfectly but in the end it was an epic fail.   To make the shirts you generously paint one side of the  fish with fabric paint. Then you place the T-shirt front side down on the painted fish and pat in place.
When you lift the t shirt  off the fish you have the imprint of the fish, scales and all, on the shirt. 
I've seen cute shirts done this way but the only fish we could  find were HUGE catfish- in most cases bigger than the shirt.  Everyone worked hard to make the shirts successful but when only half of the fish fits on your shirt it's kind of disappointing. This activity goes down as the worst one I've ever planned.
Never again will  I plan an activity or craft without trying it out on my immediate family before using it at a family reunion.
2. I will never let a scientist be in charge  of making gravy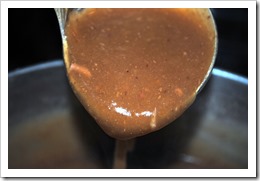 At a huge family dinner I was in charge of I gave the  responsibility for making the gravy to a scientist who had all the correct formulas for making gravy but couldn't seem to get it to thicken up.  It looked like brown water.  I had 300 people sitting at tables waiting to be served and no gravy for their potatoes.  Panic mode! 
I finally enlisted the help of a school lunch cook who swooped in  and easily thickened the gravy.  It was kind of a touchy situation- I didn't want to offend the  scientist but I really needed to get that gravy thickened so I had to turn to the REAL expert.
This "never" item  isn't about gravy it's more about assigning people responsibilities that they can be successful  at completing.  I learned to make sure I matched the right people with the right assignment!
3. I  will never hold a reunion without having a plan for bad weather.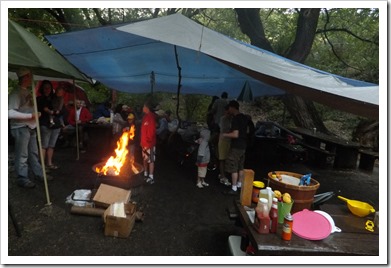 Look at this picture- these are not happy times. A rainy family reunion  is not a happy family reunion. 
We've been  holding the Stewart family reunion for 30 years and have only had bad weather two times.  So what am  I complaining about- that's a pretty good record.  It's great, unless it's one of the times it rained for three days. 
Rain and other bad weather can really put a damper on your  family reunion.  Our family were really great sports when it came to this family reunion in 2012 but a break from the rain would've been nice.  Now when  I  schedule our reunion I also reserve a nearby church's cultural hall where we can do activities, eat a meal and get out of the weather for awhile if needed.  We also come prepared with large tarps and portable heaters- just in case. 
Of course, if you hold your reunion at a hotel this won't be as much of an issue- unless, you plan on attending a theme park or other outdoor activities.  Talk to hotel officials in advance about the use of large conference halls for a bad weather day.
4. I  will never reserve a reunion site without shade.
Several years ago, we had a difficult time finding a location for our family reunion.  Someone beat us to the punch and we  lost out on our normal reunion site.  (That hasn't happened since.) In desperation we reserved a campsite at a hot springs thinking that swimming would be great fun  for everyone- it was.  However; there was no shade whatsoever and it was HOT!  We put up some tarps to give us some relief but the sun beat down on us relentlessly.  Everyone was exhausted from swimming in the hot springs pools and then baking in the hot sun. 
Since that reunion I have made it a policy to check out our family reunion sites personally.  A couple of things I look for in a suitable site are:  proximity  to the bathrooms
        suitable sites for tents  and trailers
        Enough parking (most campsites restrict the number of cars) 
        cooking facilities & eating arrangements
        open space for games and activities
        and SHADE!
5.  I will never contribute to a boring reunion.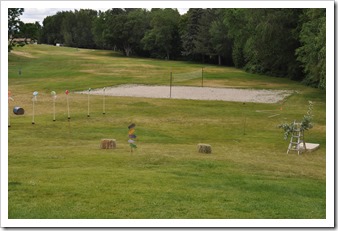 This is a picture of the really awesome obstacle course we put together for a family reunion.  Where's Waldo?  You won't  find Waldo or any other human in this picture because nobody wanted to do anything- BORING!
I was asked to plan activities for a large family.  My family worked hard at hauling bales of hay, ladders and other props for a dynamite obstacle  course.  We  also organized Frisbee golf and volleyball tournaments- BUT… nobody wanted to participate.  Their reunion consisted of eating, visiting (which  is important) and holding  an auction.  The most frustrating part of the reunion for me was when we finally got enough people together to play volleyball and the reunion  organizers shut us down so they could start the auction.  UGH!
When  I attend a family reunion I want to get to  know family members better- I want to  play with  them, laugh with  them and get a little crazy with them, but if that's not what's  important at your reunion  don't ask  someone  to plan activities. 
I learned from this experience that I had better know who my "audience" is and plan activities (or no activities) depending on their  family makeup and interests.