We had our annual family reunion planning meeting and we all agreed- it's time to "Go Green"! Since this is a new thing for our family reunion we planned to make changes to our reunion by using the  Three R's of Going Green- Reduce, Reuse, Recycle.
Reduce or prevent waste to reduce greenhouse gases by using less and throwing away less. Instead of using lots of paper and plastic products we are going to use mesh "dunk" bags and each family member at our reunion will wash their own dishes.
To do this, we are assigning each person to bring their own mesh bag, utensils, plate, bowl and cup to our family reunion.  After each meal, we will fill three dishpans with water. In one we will put liquid detergent, bleach in the other and leave the final bin full of clear water. Each family member will then wash their dishes in the detergent water, then the bleach water and finally the clear water.  All wet dishes be put in a mesh bag and then hung on a line outside.
Mesh Dunk bags are available at  http://www.outdoorpros.com/ for under $4.00 or may be available at your local dollar store.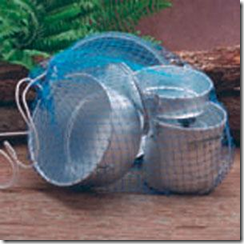 Reuse products by giving them to other people who want or need them instead of throwing them away.
It seems we are always finding half full water bottles at our family reunion.  This year we are making plans to reuse water bottles.  Family members will write their name on each water bottle and then refill it with water from coolers when it is empty.  We're hoping that one bottle a day is all that each person will need.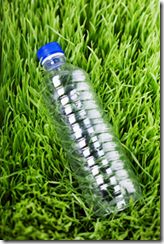 Recycle items made of materials such as glass, metal, plastic, or paper.
We have always collected empty aluminum cans for recycling at our family reunions but this year we're planning to add other items to our recycling list.  At our 2011 family reunion we will also include a container for paper and one for plastic.
I know that there are other ideas we could use to "Go Green" at our family reunion but I feel pretty good about the three changes we are planning on implementing in 2011. 
Aunt MO
"Today's mighty oak is just yesterday's nut that held its ground."
– Anonymous