Flour Fight Festival for your family reunion
I've seen a lot of fun group games but when I was invited to participate in a "Flour" war I was totally blown away- almost literally. I had never seen such a thing but it was sure a good time for everyone that participated.
Here's how it works. First thing is to make your flour "bombs". Use small popcorn bags and fill them with flour. Twist the end tightly on each bag but don't tie or tape it closed. You will want to make lots and lots of these.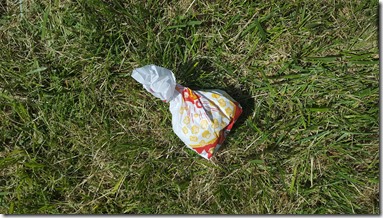 At the beginning of the game, put all of the flour bombs on the dividing line between the two teams. Have players line up on their side equal distances from the dividing line.
When someone yells "go," all players can make a run for the flour bombs and grab as many as they can. Then it becomes like Dodge Ball. Players throw their flour bombs to the opposing team. When you run out of flour bomb just pick up more from the ground.
The white marks left by the flour bombs will help settle disputes as to whether someone was hit or not. (Wearing dark shirts is recommended).
You might want to make rules about hoarding flour bombs, and remind teams that all hits must be below the neck. In most games, if you get hit you are out of the game but when throwing flour bombs everyone stays in the game and when the flour is all gone everyone lines up and awards can be given for the most flour and the least etc.
Flour wars is actually a real thing. For 200 years a battle has taken place in Ibi, Alicante, Spain. Not fought with swords or guns, but with flour and eggs. Every year on December 28th the town celebrates Els Enfarinats, better known as the Flour Fight Festival. This is Spain's version of April Fool's Day. At the end of the day there is a massive food fight, complete with fire crackers, to commemorate the day. I'm not sure I could handle the egg part of that competition but if Spain is part of your heritage it might be fun to share this information with your family.
And most importantly, the flour will disappear within 10 minutes of your battle but please be good stewards of the environment by picking up all the discharged bombs- paper popcorn bags..