A pretty sweet printable game- and it's free!
Whenever I plan a I party or a family reunion I like to have an activity or game that people can play when they first arrive. The goal is to get family members, or friends, laughing and talking with each other. The "How Sweet It Is" free printable fits the bill and coming up with prizes for the winners is a snap- candy bars! I suggest the snack size because you'll probably have several winners. This ice breaker game is great for large or small group games and for family members of most ages. You can download the free printable by clicking below. Don't forget to download the answer key.
Nature Scavenger Hunt- fun activity for your family reunion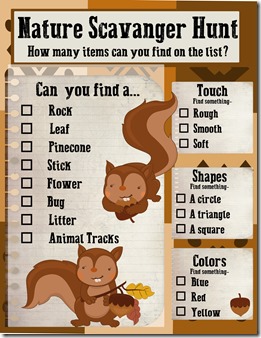 If your family reunion location is at a park or a campground this Nature Scavenger Hunt is a wonderful excuse to get outside, have some fun, and spend time together as a family.
Just print off our fun Scavenger Hunt printable on heavy cardstock and give everyone a copy along with a pencil and let the fun begin. You can work as teams or individually, it can be a race or a contest to see who finds the most items. Allow everyone an opportunity to show off their favorite find.
You can find the link for our Nature Scavenger Hunt below- or right-click on the picture above, save it to your computer, and print.
What's a Mashed Potato Bar?
I had never heard of a "Mashed Potato Bar" until recently when my daughter came home from a family function with her husband's family and they had hosted a mashed potato bar. My daughter raved about how delicious and fun the mashed potato bar was.
Of course, I've eaten at lots of baked potato bars and for any years a potato bar was our go to meal at family gatherings but a mashed potato bar is a fun new twist to that traditional and rather over done family reunion meal.
Here's how you put a Mashed Potato Bar together for your next family reunion or party.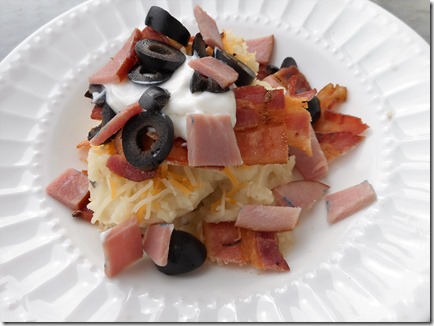 Of course, the main ingredient is mashed potatoes. You can make your own (see recipe below) or you can use already prepared potatoes such as the ones Costco carries.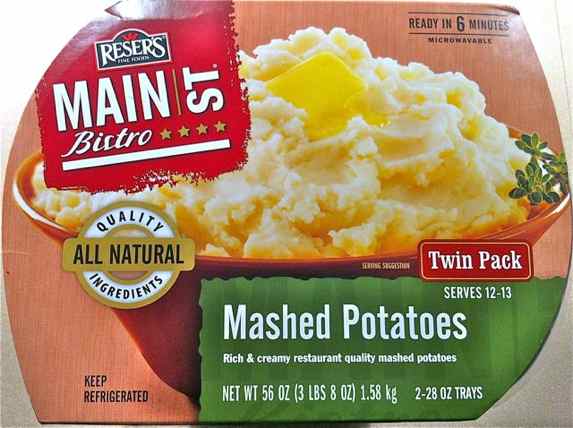 Mashed Potato Bar Toppings Ideas
Serve your potatoes in large crock pots to keep the potatoes warm and set out various toppings. I've listed a few of our favorites but use your imagination to customize to your needs:
Sour cream
Chopped green onions
Mushrooms
Olives
Crumbled bacon
Finely shredded cheese
Steamed broccoli
Chopped Ham
Shredded chicken
Whipped butter
Sour cream
Frozen Peas
Ranch salad dressing
Grilled zucchini and summer squash
Caramelized onions and peppers
Freshly grated Parmesan
Tomato salsa
Tomatoes
Jalapenos
Grilled tri-tip sliced thin
Onion crisps
Country Gravy (I like to stay away from gravy, it's the obvious choice and people aren't' as creative if they have gravy as a choice)
Salt and pepper
The Idaho Potato Board has their own list of ingredients for a Mashed Potato Bar which you can find by clicking on the link below.
https://idahopotato.com/recipes/mashed-potato-bar
Serve on plain plates or bowls or fancy things up a bit by using goblets as your dishes. You can always find a miss-matched assortment of goblets and wine glasses at your local DI or Goodwill.
A good basic mashed potato recipe includes just a few ingredients. Note: Baking and Russet potatoes tend to be heavier and starchier than Yukon Gold potatoes.
Basic Mashed Potatoes Recipe
8 Potatoes
1/2 Cup melted butter
1 can Evaporated Milk ( I melt my butter in a bowl with the milk for creamier potatoes.
Salt
Fresh Pepper
Peel and dice potatoes and put in pot of boiling salted water. Cover and simmer until potatoes are fork tender (20-30 minutes, depending on quantity of potatoes). Remove from heat and drain.
Mash potatoes with a potato masher or a hand mixer.
Add butter and milk
While doing research for this article I found this cute Mashed Potato Bar sign on Etsy. The name of the shop that offers it for sale is the TheDoodleCoop.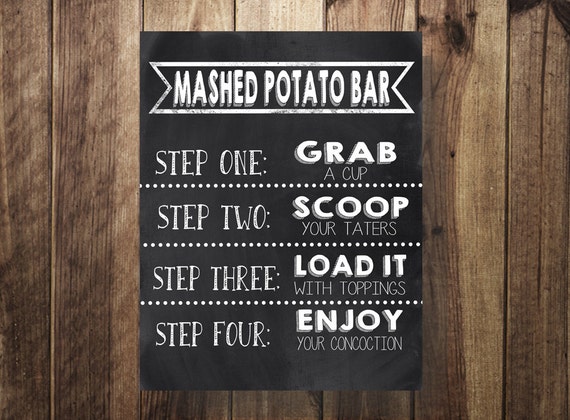 Be sure and sign up to receive a copy of familyreunionhelper.com's FREE reunion cookbook HERE